2023 Results
The 2023 Banana Slug Backyard Ultra started with 40 particiapnts at 7:00 AM on Friday, April 21 and ended just after 3:38 PM on Saturday, April 22 after Scott Martin completed the course for his 33th time in under 33 hours, covering a total distance of 137.5 miles.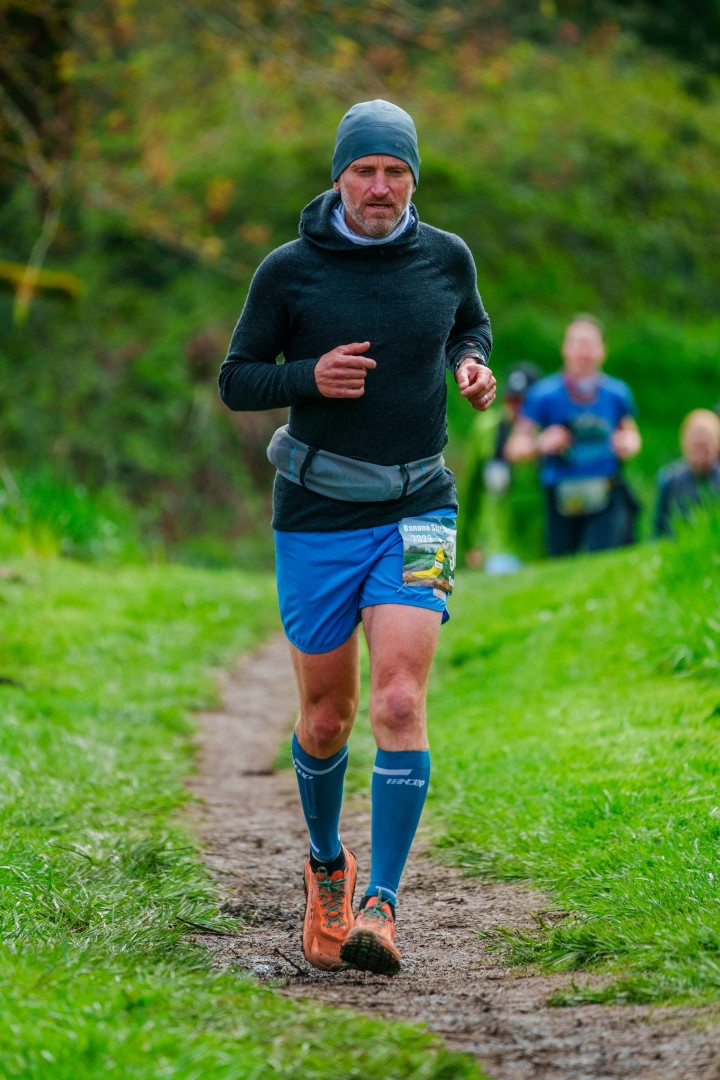 Mikey Sklar delivered the "assist" in the race by completing the course 32 times in under 32 hours, covering a total distance of 133.33 miles.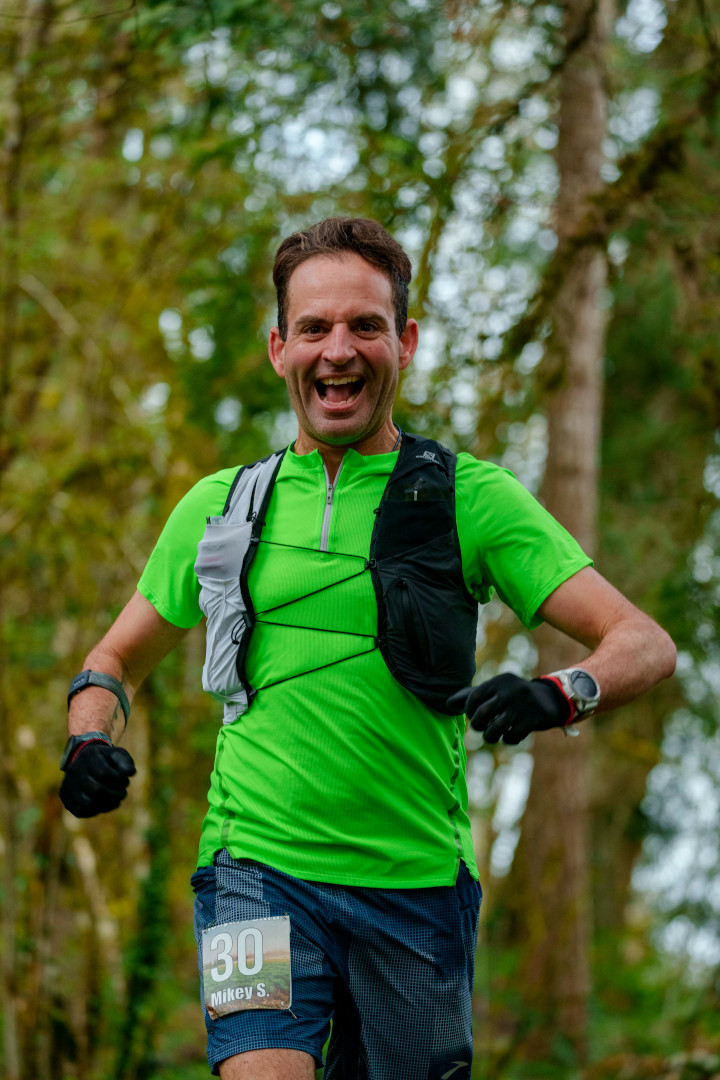 Of special mention in the race is the Stubborn Five. At the beginning of loop #22 in the race (87.5 miles) only 5 runners left the starting corral. All 5 completed the milestone loop #24, achieving 100 miles and all 5 stubbornly refused to drop. The race continued for 7 hours with the same 5 participants. This is the longest stretch in Banana Slug Backyard Ultra history with no runner being eliminated or refusing to continue. Congratulations to Stephen Schieberl, Julija Šorytė, Jacob Goltry, Mikey Sklar, and Scott Martin on this achievement.
Congratulations to all 40 runners that participated. Many personal records were beaten, and I'm sure we'll see results even more impressive next year.
The table below gives final results for every runner. Click/tap on any column header to sort (or reverse sort) by that column. Also see the results spreadsheet for the lap times for every runner on every lap.
| Result | Given name | Surname | Bib | Hometown | Loops |
| --- | --- | --- | --- | --- | --- |
| Winner | Scott | Martin | 34 | Portland, Oregon | 33 loops (137.5 miles) |
| DNF | Mikey | Sklar | 30 | Lakewood, Washington | 32 loops (133.33 miles) PR! |
| DNF | Jacob | Goltry | 43 | Portland, Oregon | 31 loops (129.17 miles) |
| DNF | Julija | Šorytė | 26 | Portland, Oregon | 30 loops (125 miles) PR! |
| DNF | Stephen | Schieberl | 24 | Estacada, Oregon | 28 loops (116.67 miles) PR! |
| DNF | Saulius | Bračiulis | 18 | Seattle, Washington | 21 loops (87.5 miles) PR! |
| DNF | Andrea | Artman | 16 | Beaverton, Oregon | 19 loops (79.17 miles) PR! |
| DNF | Joe | Carroll | 25 | Portland, Oregon | 19 loops (79.17 miles) |
| DNF | Ryan | Cotton | 33 | Vancouver, Washington | 18 loops (75 miles) |
| DNF | Kelly | Fruth | 44 | Mariposa, California | 17 loops (70.83 miles) |
| DNF | David | Wilson | 27 | Sisters, Oregon | 15 loops (62.5 miles) |
| DNF | Jameson | Collins | 40 | Eugene, Oregon | 15 loops (62.5 miles) |
| DNF | Anne | Savage | 36 | Beaverton, Oregon | 15 loops (62.5 miles) |
| DNF | Shauna | Zobrist | 29 | Sisters, Oregon | 13 loops (54.17 miles) |
| DNF | Amy | Margolis | 28 | Sisters, Oregon | 13 loops (54.17 miles) |
| DNF | Tallyn | Sherman | 13 | Denver, Colorado | 13 loops (54.17 miles) |
| DNF | Greg | Vitunic | 47 | Portland, Oregon | 12 loops (50 miles) |
| DNF | Jeff | McPherson | 35 | Independence, Oregon | 12 loops (50 miles) |
| DNF | Art | Fowler | 41 | Hillsboro, Oregon | 12 loops (50 miles) |
| DNF | Michael | Erickson | 21 | Portland, Oregon | 12 loops (50 miles) |
| DNF | Gaelen | Watt | 6 | Gladstone, Oregon | 12 loops (50 miles) |
| DNF | Steve | Walters | 17 | Tigard, Oregon | 12 loops (50 miles) |
| DNF | Michael | Hauser | 8 | Portland, Oregon | 11 loops (45.83 miles) PR! |
| DNF | Glenn "2N Glenn" | Armstrong | 9 | Tigard, Oregon | 10 loops (41.67 miles) |
| DNF | Matt | Greensmith | 4 | Portland, Oregon | 10 loops (41.67 miles) |
| DNF | Jackie | Fisher | 11 | Lake Oswego, Oregon | 10 loops (41.67 miles) |
| DNF | Priscila | Alba | 22 | Seattle, Washington | 9 loops (37.5 miles) |
| DNF | Hugo | Lopez | 48 | Seattle, Washington | 9 loops (37.5 miles) |
| DNF | Heidi | Quinn | 1 | Wasilla, Alaska | 9 loops (37.5 miles) |
| DNF | Keegan | Winkle | 7 | Nampa, Idaho | 9 loops (37.5 miles) |
| DNF | Kyle | Resnik | 38 | Albany, Oregon | 8 loops (33.33 miles) |
| DNF | Tyler | Franklin | 42 | Lyons, Oregon | 8 loops (33.33 miles) |
| DNF | Daniela | Ramirez | 31 | Seattle, Washington | 7 loops (29.17 miles) |
| DNF | Peter | Frick-Wright | 15 | Portland, Oregon | 7 loops (29.17 miles) |
| DNF | Josh | Townsley | 39 | Portland, Oregon | 6 loops (25 miles) |
| DNF | Rodrigo "Elvis Cocho" | Merlos | 23 | Seattle, Washington | 6 loops (25 miles) |
| DNF | Grant | Polson | 10 | Hood River, Oregon | 5 loops (20.83 miles) |
| DNF | Tamara | McEwen | 32 | Portland, Oregon | 4 loops (16.67 miles) |
| DNF | Selena | Schaefer | 19 | Longmont, Colorado | 1 loop (4.17 miles) |
| DNF | Jenny | Marietta | 20 | Forest Grove, Oregon | 1 loop (4.17 miles) |